Are you looking for cool woodworking projects? Are you into woodworking for the first time and don't know what to do first? A novice woodworker could find himself confused with the number of great woodworking ideas online and offline; it's really easy to get lost and even become overwhelmed with the variety of interesting projects to do. This is why we have created a list of 30 best of the best woodworking projects found online. We have collected these awesome finds from Pinterest which has one of the largest collections of amazing woodworking projects fit for novice and experienced woodworkers.
Those who are new to woodworking will find our list a bit overwhelming however with the right tools, the best techniques and strategies as well as patience, these projects will be easy to complete in no time. On the other hand, an experienced woodworker may find this list a challenge as well since some of these projects have updated designs and the use of new techniques. Some of these projects are professionally made while some were conceived from DIY inspiration. So without further ado, here are 30 of the coolest woodworking projects for cool woodworkers
1. Cute Wooden Elephant Pen and Cell Phone Holder – your brand new office buddy!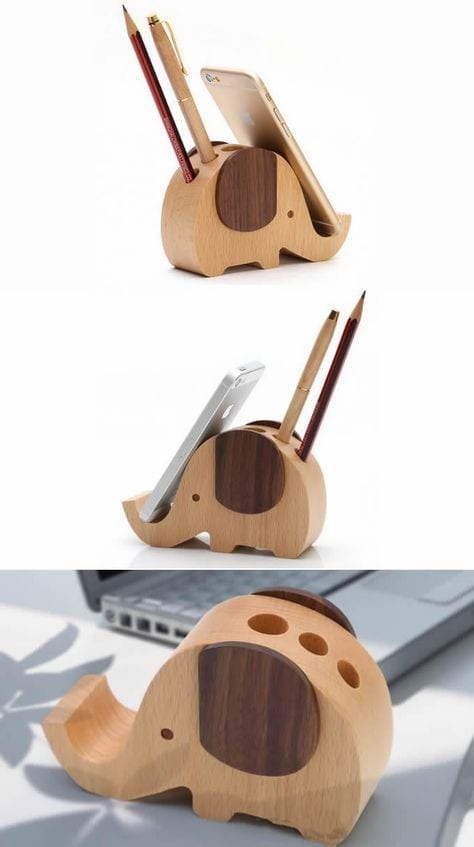 This cute elephant is more than just a conversation piece in your office. You won't believe how such as small creature can have multiple uses. This elephant can hold your mobile phone to display the screen; it can hold two pens and a large marker and can work as a paper weight too. It is made of lightweight wood cut specifically in the outline of a cartoon elephant. The holes on the top are drilled while a light gloss gives this woodworking project a good shine. It will sit quietly and hold your stuff as you complete reports and finish deadlines at your office or home office.